---
A pioneer in biodynamic growing in the Hautes-Côtes de Beaune
---
1984: Domaine founded by Didier Montchovet
Our Domaine was founded by Didier Montchovet in 1984, when he took out the lease for a tiny 0.5-hectare plot of vines in Nantoux. From a vigneron family in Nantoux, this young consultant winemaker and wine tasting instructor, worked the vineyards using organic and biodynamic growing methods, listening to and respecting nature. We are the first wine domaine in Burgundy to have received Demeter biodynamic certification.
At a time when people were just starting to re-consider the whole "all chemical" approach, when the concept of terroir and the incalculable value of Burgundy's Climats were not yet fully appreciated by all, Didier Montchovet was among a small bunch of pioneering producers who were discussing and practicing an eco-friendly and solidarity-driven viticulture that was truly sustainable long before the word became fashionable. Keen to educate others, they shared their expertise with many other wine estates, both modest and famous, inspiring them to follow this path that respects man in his environment.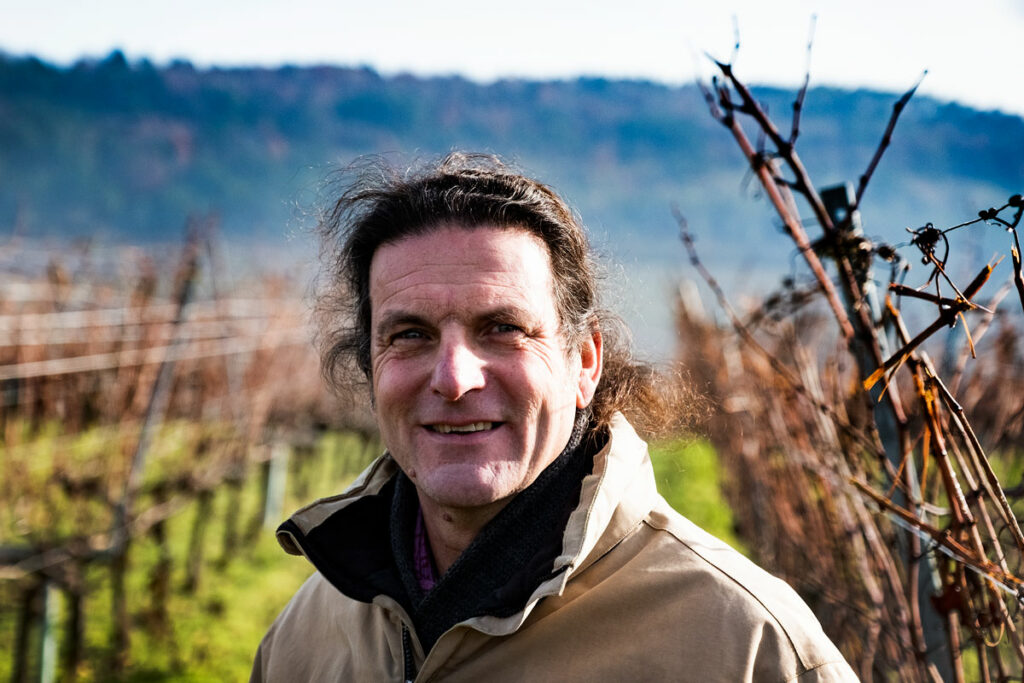 ---
1990 – 2020: gradual expansion of the Domaine
Over the years, the domaine has expanded its surface area through the purchase of other small plots of vines, but it has retained its roots in Nantoux in the Hautes-Côtes de Beaune. In around 1990, two large plots covering 5 ha, Montagne de Cras and En Bignon, were planted with Lyre-trained vines. The original vines had been grubbed up in the 1900s after the Phylloxera crisis so the land had never been treated with chemicals!
The Domaine's wines are now being appreciated by an increasing number of customers, both in France and abroad. In more challenging years when the weather has not been kind, and in order to protect his business, Didier Montchovet buys in certified organic grapes from some of his fellow winegrowers in terroirs such as Volnay. Boris Champy continues to buy grapes under the name Petit Aigle.
Today, the Domaine extends over around 12 ha with two large areas:
The Hautes-Côtes de Beaune with the Montagne de Cras, Le Clou and En Bignon plots
3 plots quite close to each other: Pommard En Bœuf and two Beaune 1er Crus: Aux Coucherias and Les Vignes Franches
We regard our Domaine as a multitude of small islands of biodiversity, with numerous "clos", which endow each of our wines with its own personality and identity that we only enhance in the most natural way possible during the vinification process.
A new name for the estate
With the complete vineyard, winery and inventory takeover, Domaine Didier Montchovet is renamed Domaine Boris Champy. The small négociant activity "Didier Montchovet wines" takes the new name 'Petit Aigle" in reference to the majesty of Hautes Cotes, the snake eagle. To be clear for our consumers, the wines will be labelled: for the estate, Domaine Boris Champy (Biodynamic, certified Demeter) and for the micro-négociant Petit Aigle (Organic, certified Ecocert).