---
Biodynamic and certified viticulture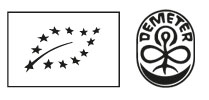 Since its foundation in 1984, the Domaine has sought certification for both Organic Agriculture (Ecocert) and its biodynamic practices (Demeter). Just something that's nice to have? Far from it! The Domaine may have been a pioneer when it was founded and when environmental awareness was something new, but things have thankfully changed since.
Awareness of the need to work in an eco-friendly manner is now global and our world cannot go on as it was before. However, the certification process does challenge us to push ourselves ever further and leaves no room for error. Each day, it is a driving force, much more than it is a constraint, and it shows our deep commitment to our employees, customers and consumers.

---
Harvesting, winemaking and ageing: receiving a gentle helping hand
You can't make a great wine without great grapes! Our vines are carefully tended throughout their entire vegetative cycle. At maturity, the grapes are harvested by hand in a family atmosphere by a small team of trusted pickers who work with us each year.
The vinification work is as non-interventionist as possible: we use native yeasts, control fermentation by means of skillful temperature management and carry out very little cap-punching or extraction… Boris Champy seeks to reveal the soul of each vineyard plot, the spirit of the grape variety and of the place.
Ageing wine is an art of patience and respect. Patience, because it takes many months for the barrels to gently imprint their character (origin, toasting, grain) on the wine. Respect, because the oak is only there to serve the wine. The Domaine therefore goes for barrels that have only a subtle influence on the wine and very few new barrels are used.